Darwin on the Palouse
Darwin on the Palouse 2017 has come and gone – our 6th year and possibly our best yet! Thanks to everyone who joined us, and a special thank you to our speakers, Dr. Miller and Dr. Folta.
Stay tuned for information on next year's event!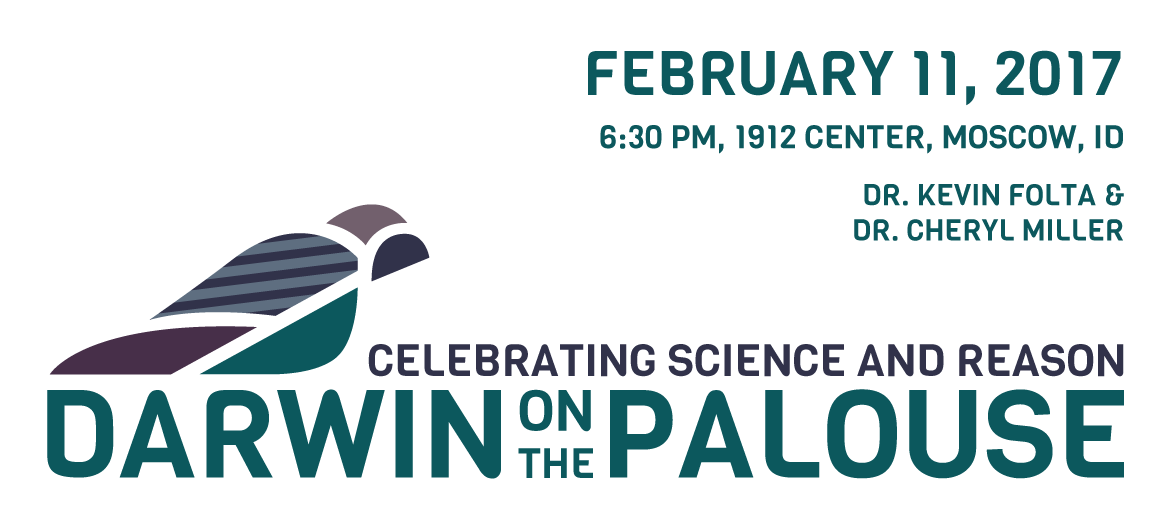 Darwin on the Palouse, a local Darwin Day celebration, is a free annual event to celebrate humanity, science and rational thought, is sponsored, in part, by the American Humanist Association, the Humanists of the Palouse, Secular Student Alliance at the University of Idaho, and by generous donations from the community. It is held on or around the birthday of Charles Darwin, in Moscow, Idaho. 
This year's event is scheduled for February 11, 2017 at 6:30 PM and will be held at the 1912 Center in Moscow, ID. We are excited to announce our guest speakers this year: Dr. Cheryl Miller and Dr. Kevin Folta. They will talk about vaccines and GMOs, respectively.
Following the evening's main event, we will meet at Hunga Dunga in Moscow, for a casual social gathering with the speakers (includes a cake to celebrate the birthday of Charles Darwin!).
Click to download a printable flyer.
–––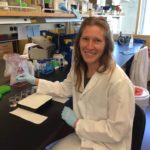 Dr. Miller will present the history of vaccinations and discuss common misconceptions and risks. She will also define how vaccines have impacted human health.
She holds a Ph.D. in Microbiology and Immunology from the University of North Carolina at Chapel Hill and has over a decade of experience researching highly infectious diseases. She is devoted to improving human and animal health by defining new targets for making vaccines, treatments, and diagnostic tools.
Currently she is a postdoctoral scholar working at Washington State University researching the infectious bacteria, Brucella abortus, which causes abortion and infertility in livestock and can infect humans. Her work has been published in numerous scientific journals and the USDA currently funds her research. Her work can be used to create new drugs to prevent and fight bacterial infections.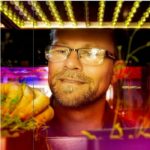 Dr. Folta is a public scientist and educator interested in teaching the hard scientific information about the strengths and limitations of biotechnology. We're excited to have him speak with us about GMOs!
Dr. Folta is a Professor and the Chairman of the Horticultural Sciences Department at the University of Florida, overseeing and supporting teaching, research and extension efforts of more than 50 leadingfaculty in the nation's #2 specialty crop state. His research program examines how light signals are sensed in plants and how different parts of the spectrum can change shelf life and high-value fruit and vegetable traits. His group also uses novel genomics approaches to identify genes related to flavor and disease resistance. An innovative new project is testing a method to create new small-molecule drugs for use in everything from plant growth regulation to MRSA. He has published over 80 peer-reviewed articles and edited two books, and led the 2011 publication of the strawberry genome sequence.
Dr. Folta is a noted expert in training scientists, farmers and physicians in how to speak about agricultural innovations with a curious and concerned public. He is a regular guest on popular podcasts, including Skeptics Guide to the Universe, Talk Nerdy with Cara Santa Maria, and the Joe Rogan Experience. Kevin also frequently writes for popular media, and runs his weekly podcast Talking Biotech. These communications conduits serve to spread an important message about sustainably feeding a planet in 2050—all technologies must be considered, and innovation only moves to application with communication.
In 2016 he was recognized with the prestigious CAST Borlaug Award in Agricultural Communications. He was recognized in 2007 as an HHMI Distinguished Mentor of Undergraduate Research, 2008 with the NSF CAREER Award, in 2009 with the Northern Illinois University "LA&S Top 50 Graduates", the 2010 UFRF Research Professor Award, and in 2013 was one of two faculty recognized with the UF Postdoctoral Mentoring Award.
Kevin holds a BS/MS Northern Illinois University (1989/1992), and a Ph.D. from the University of Illinois at Chicago (1998). During his undergraduate career he was President of the forensics (intercollegiate speech and debate) team and was a national finalist in 1989.
–––
In past years our guest speakers have included: PZ Myers, Daniel Dennett, Dan Barker, Julia Sweeney, Dr. Frank Brown, Dr. Karen E. James, Josh Roseneau and Steve Olson.
If you would like to get involved or are interested in speaking at next year's event, please contact us!
For the latest information and to view the list of events please visit our Facebook page.